Certified Fiber Optic Specialist – Outside Plant Installation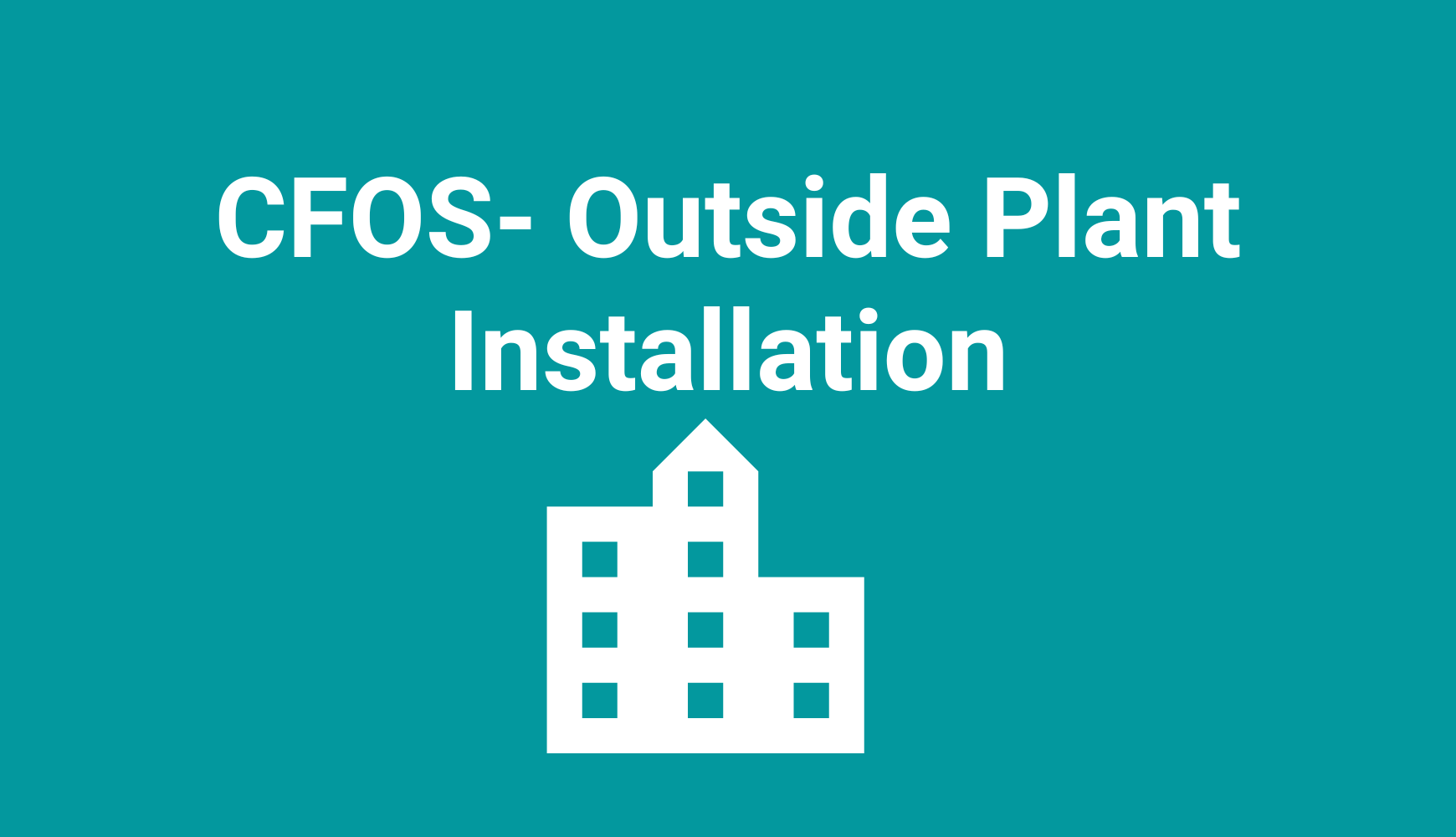 About Course
The Certified Fiber Optic Specialist – Outside Plant Installation (CFOS/O) is a 2-day application specialist certification  for students who will be directly involved with installing Outside Plant (OSP) Fiber Optics Cabling. Further, it is an add-on course to their FOA portfolio once they have successfully completed the 3-day, basic CFOT course and can be taken the same week with the CFOT course. This advanced Fiber Optic Training combines lecture sessions and 85% hands-on activities to prepare the student to take the CFOS/O, OSP hands on and written exams that are sanctioned by the FOA (Fiber Optics Association) and given and graded the final class day.
This course introduces the student to industry standards governing the installation, testing, and troubleshooting of OSP fiber optics cable – primarily singlemode OSP cable used in the Outside Plant Rugged Environment. Students will learn how to properly identify OSP fiber cabling types, recognize various outside plant closures used in OSP fiber installation, install, prepare, terminate, splice, and properly test and troubleshoot installed OSP fiber cable to existing standards. Course fee includes study materials, Text Book, and exams and 1-year membership to the FOA.
Typical Field Experience For Direct OSP Specialist Certification
To qualify for the CFOS/O certification, a CFOT plus two years of field experience are required, including documented experience installing and testing OSP fiber optic networks. Training by employers, manufacturers or vendors of cabling products will be recognized as part of the experience requirements.
Field experience installing and testing OSP fiber optic networks must include the following:
Participation in multiple installation jobs, preferably including buried, underground and aerial cable installations.
Experience preparing OSP cable types.
Experience with fusion splicing.
Experience test with VFL, OLTS, OTDR.
Show More
What Will You Learn?
Identify OSP fiber cabling types, recognize various outside plant closures used in OSP fiber installation

Fiber optic components appropriate for OSP networks

Install, prepare, terminate, splice, and properly test and troubleshoot installed OSP fiber cable to existing standards

OTDR, OLTS, VFL Procedures and installation of buried, underground and aerial cable

Troubleshooting of OSP fiber optics cable – primarily singlemode OSP cable used in the Outside Plant Rugged Environment
Course Content
Introduction to OSP fiber optic installations
Communications systems utilizing OSP fiber optic cable plant
Installation of Fan Out Kits and Connectors
Closures: Types and Hardware
Splicing: Mechanical and Fusion
Preparation and Cleaning of OSP Cable
Construction for OSP installations
OTDR, OLTS, VFL Procedures
Splice closures, OLTS and OTDR testing
OSP Fiber Plant Testing, Troubleshooting and Repair
Hands On activities: Build, troubleshoot and test an actual, outside plant fiber optics cabling system